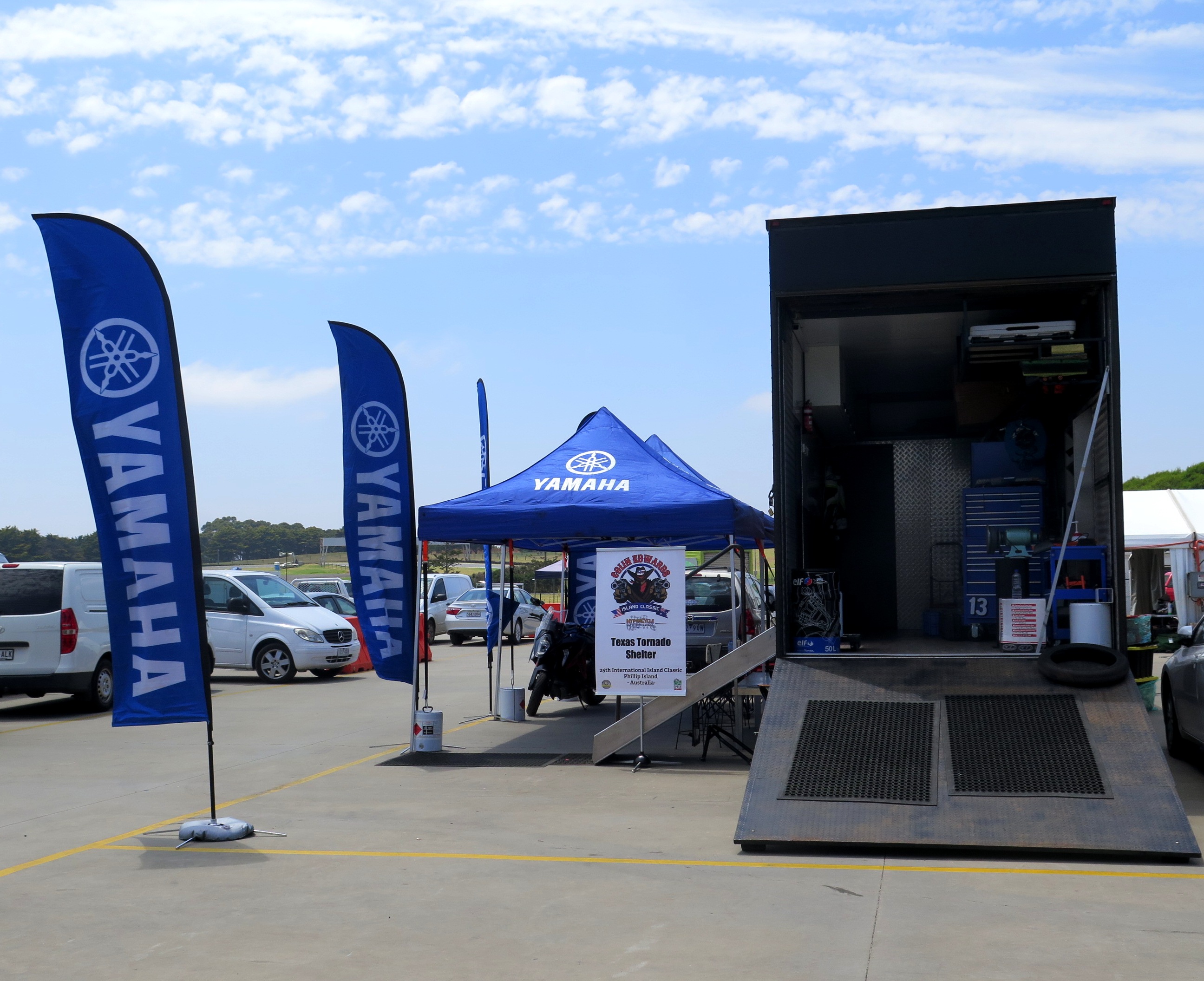 January 29, 2018, Philip Island, Australia – It is noon, overcast, with pea size drops of rain falling and the humidity heavy.  Nursing a sunburn from a very hot and humid weekend of racing, which caused power outages, melted asphalt and traffic jams off the island.  I reflect on the differences this time four years ago when I first came to Phillip Island to discover what the International Island Challenge was about.  I left then with more questions than I had arrived.  Asking the same question as the local spectators, where are our American fast guys?  As an American classic motorcycle racer, I had heard about the epic event from fellow race mate, international land speed and classic road racer Ralph Hudson who had come in 2013 with Team USA's debut.
For the Love of the Sport -The Team USA consisted of primarily American Historic Racing Motorcycle Association classic racers, who had filled two cargo containers, representing east and west coast classic racing motorcycles. Most of which were racing for their first time outside the of the U.S.  The transport of their bikes covered by the Island Classic organizers thru the efforts of Ed Haazer, a soft spoken AFM racer, who had been invited initially by an Australian Facebook friend, Roger Gunn, to race the event with an Australian bike.  Together they had started the ball rolling to bring an American team over.  David Crussell, and ex-pat Brit, and AFM racer, took over as team captain and started inviting racers.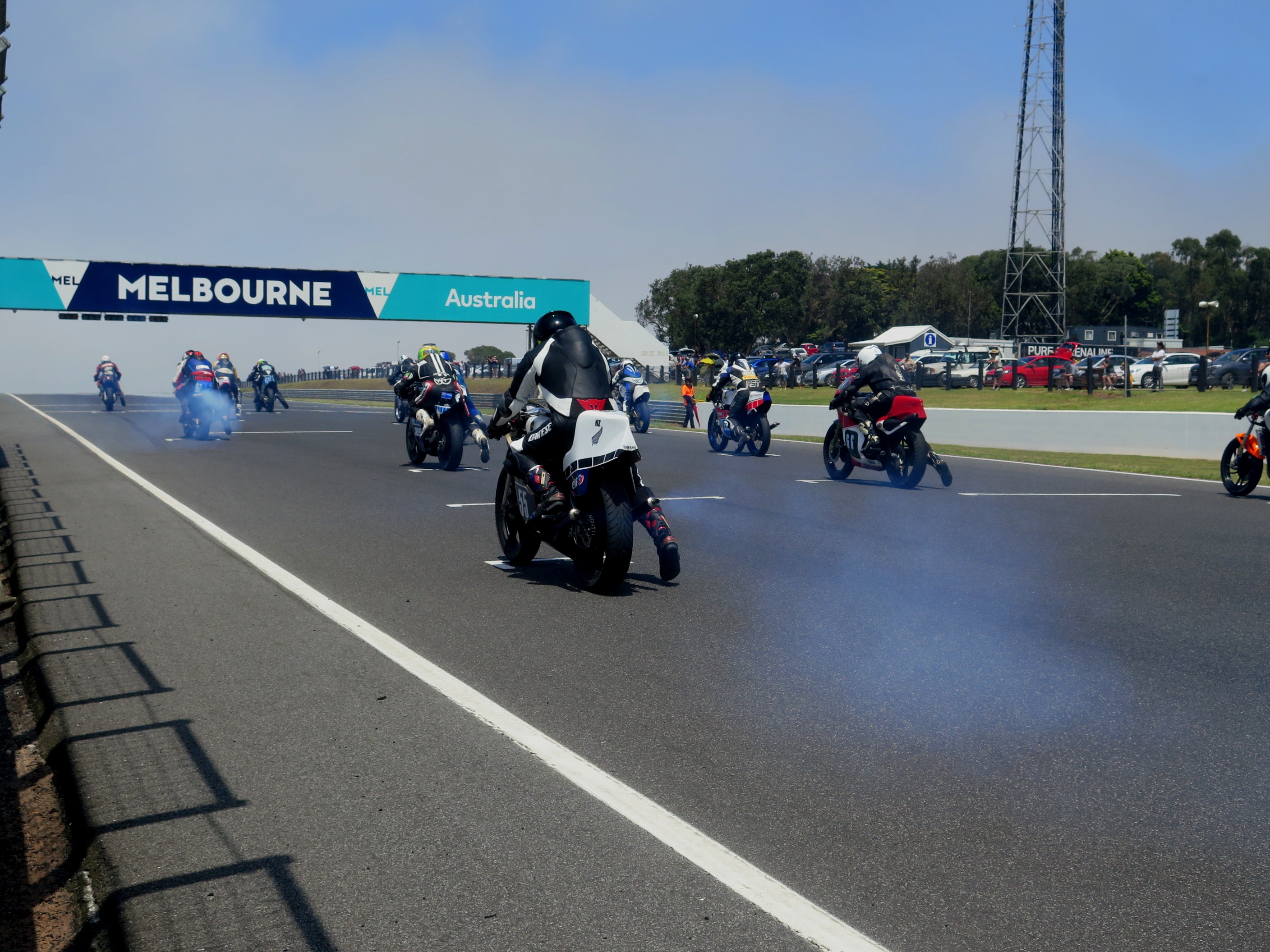 The International Island Classic started 25 years ago, hosting classic motorcycle races at what many consider to be one of the premier classic events on one of the world's best tracks, Phillip Island Circuit.  A bucket list track for many top racers.  Celebrating it Silver Anniversary, there are many more classes, ranging from pre-war to 1990 era bikes.  This years Island Classic had grown to 56 races and over 300 racers with the biggest spectator draw being the Island Challenge Races, sponsored by MV Agusta.  The Island Challenge races consist of a combination of Formula 350-1300cc bikes from 1973-1984.   Being primarily an ongoing match between the Poms (British) and the Aussies (Australians), an extension of a deep rooted ancestral rivalry, inviting the Kiwis (New Zealand) and the Yanks (Americans) to duke it out among themselves.  The Challenge Race is made up of a series of four races in which each country can enter up to nine racers, racing four 6-lap sprint races over two days. The cumulative score of points from each country's top five finishers per race decides the winning team.  The winners receiving the Phil Irving Perpetual Trophy and bragging rights for a year,  and the overall top scoring points individual wins the Ken Wootton Memorial Trophy along with a much coveted traditional homemade plate of brownies!
Poms vs. Aussies  – Since Team USA's  debut in 2013, it has been in much need of assistance when it comes to the Challenge Race, as does Team New Zealand.  Both being severely out-leagued by the British and the Australians Challenge Racers who consistently had traded the perpetual trophies back and forth.  However lately its been the British who have managed to keep the trophy much to the Australians chagrin.   The British team manager, Roger Winfield is organized and spares no expense with machines built to Superbike specs, modern geometry replica frames, modern suspension, six-speed transmissions, metallurgy improvements,  plenty of spares and hired gun riders.  A seasoned veteran of the Island Classic, he brings three spare engines for each of his Yamaha FJ1200+ bikes, and hired TT guns,  Jeremy McWilliams, Peter Hickman, Glen Richards, Lee Johnston, Daniel Linfoot, to name a few.   The Australians are not too far behind with  their machinery and stock their rider arsenal as well with quick draws, Troy Corser, Steve Martin, Shawn Giles, Beau Beaton, Cam Donald, Paul Byrne and David Johnson.
Kiwi's vs. Yanks – Meanwhile the Kiwi's and Yanks have been "clubbies", left to battle themselves, having no where near the budgets.  Team USA's best showing had been 10th place in the Challenge Race.  So that they didn't feel left out, New Zealand Team Captain Duncan Coutts recently created a gag trophy for the two underdogs, the Island Classic International Presidential Superpower Plaque.  Consisting of a  lacquer covered gold plated hundred dollar bill with Donald Trump's image, and the loser gets the Donald Trump wig.  To make matters a bit worse, there is an annual Gala Dinner in which New Zealand and American teams receive the least amount of respect with an annual royal roasting by the silver-tongued and quick-witted British commentator Alan Cathcart.  It was hard to watch when I attended in 2014, as he successfully embarrassed our team.  I felt a welling up of good old-fashion American pride.  It was time to get the word out, we needed to form an American A-Team.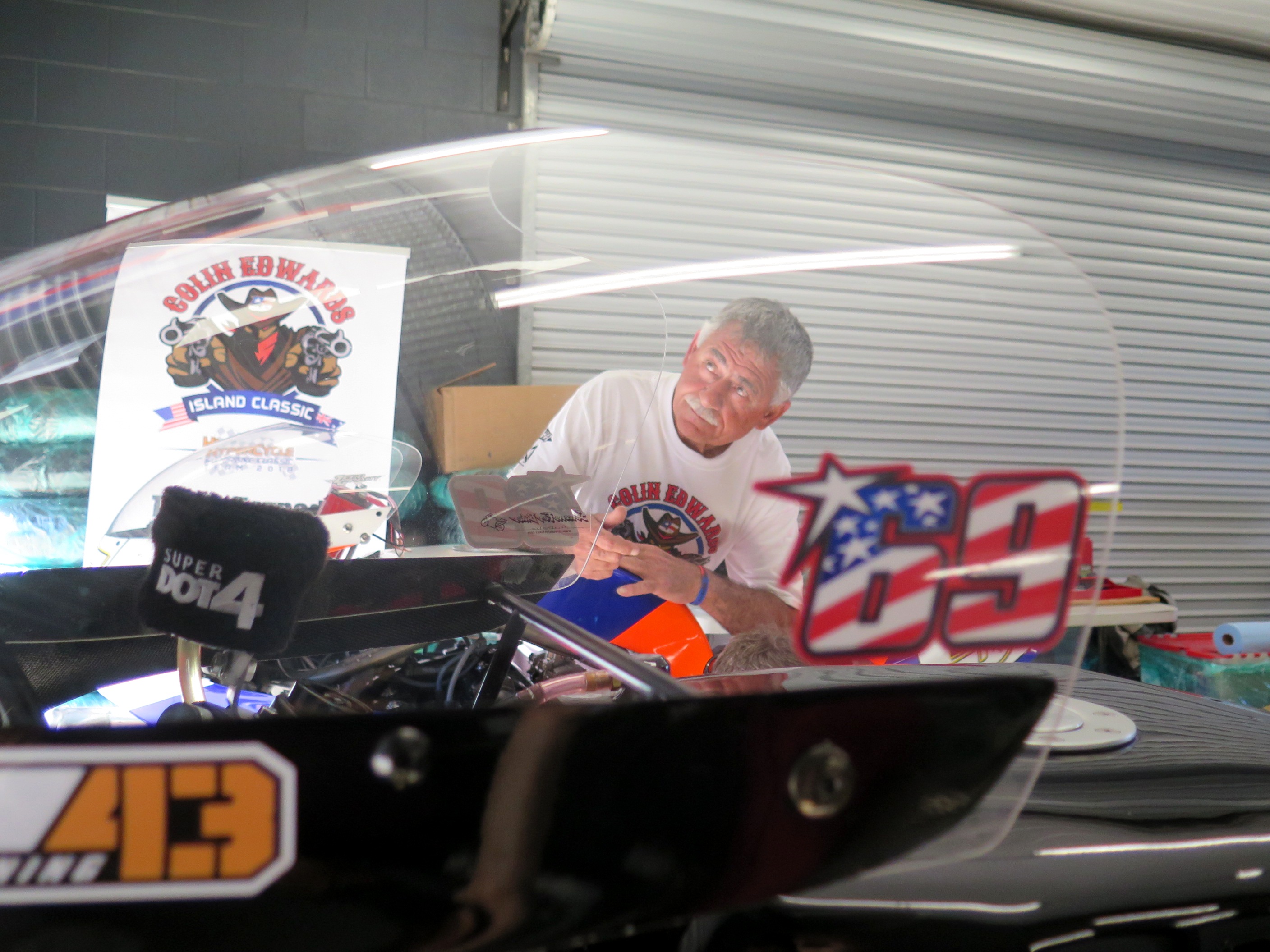 A Dream Come True – In steps Carry Andrew, a retired AMA pro-racer from California,  owner of Hypercycle, a one-time sponsor of racer Nicky Hayden, whose specialty is building race engines.  Andrew ran into Colin Edwards, the retired 12-year MotoGP racer  in 2016 at the Barber Vintage Festival, Birmingham, Alabama, the largest classic motorcycle festival, which draws an attendance greater than that of world class modern motorcycle MotoGP events in the U.S.   Edwards was acting as Grand Marshall, and Andrew was racing one of his 1990's Kawasaki race bikes.  Andrew had been to the Island Challenge to race earlier that year and quickly saw it needed help.  "I saw the representation we had in the Challenge race. I thrive on challenges and I decided to do something about it. I feel honored that Colin accepted…Realizing I could get enough of the pieces I wanted together to do it, I contacted him again."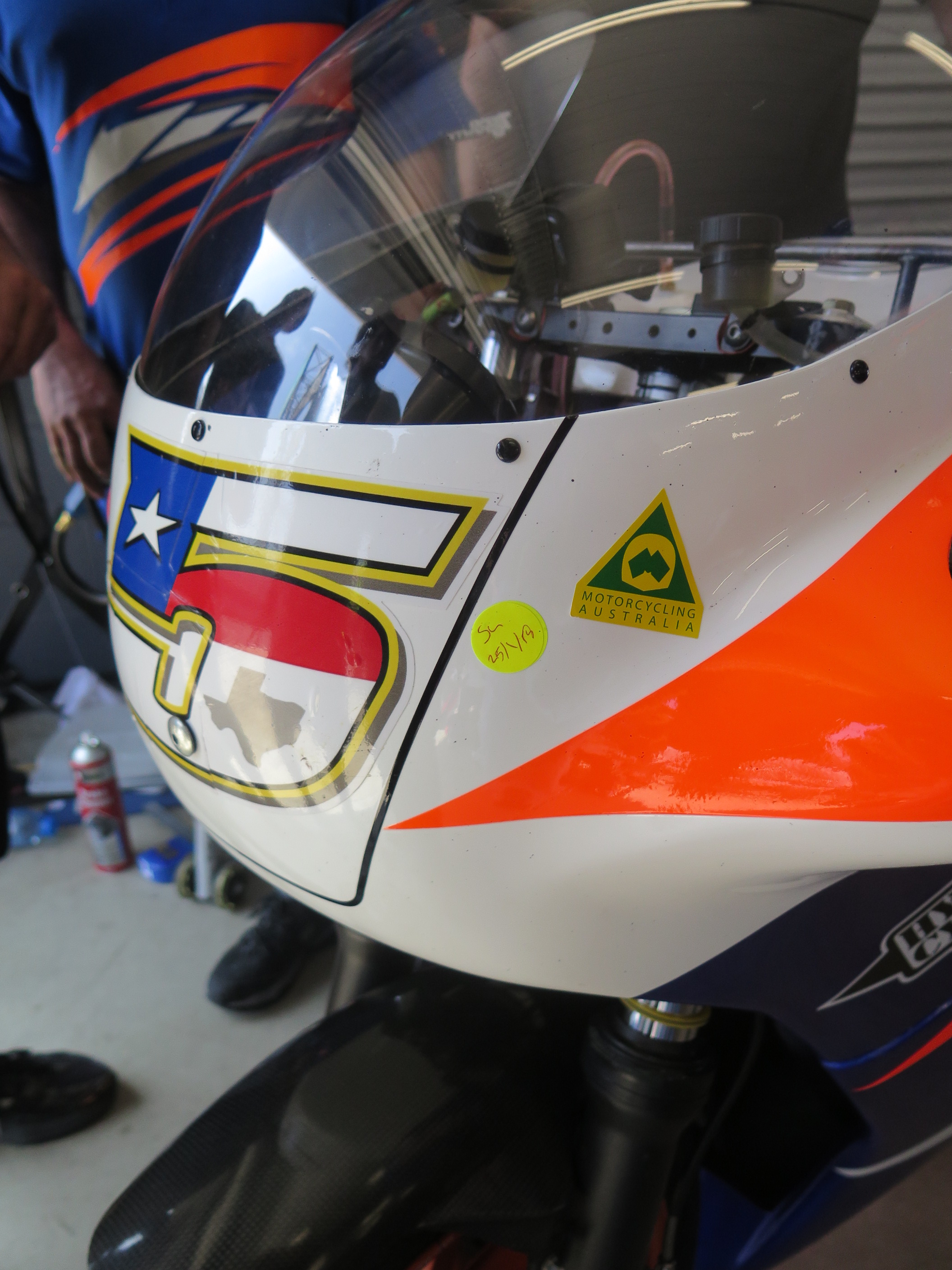 A Fast Build – A challenge race of a different sort started for Andrew when Edwards accepted the invitation late September.  The race is late January,  and the bikes need to be shipped late November by sea.   Andrew quickly scrambled, assembled a crew, found an XR69 replica frame,  and ordered engine parts.   Although the race bikes are considered classic, it is  a loose term "down under" when it comes to the Challenge Race.  The only thing original in some cases with the top finishers' highly modified high performance works of art are the engine serial numbers.  Andrew knew this, and was no stranger to building Superbike spec machines. However, this was a new territory, with some new twists.  He added custom fitted carbon bodywork from Paul Taylor to make the bike more aerodynamic, and custom designed exhaust by Graves Racing. The HyperCycle Yamaha FJ1198 was ready for testing early November.
Ready Just in Time  – Edwards, a regular commentator for MotoGP races and runs his Texas Tornado Motorcycle Boot Camp, has a very tight schedule.  He flies out from Texas mid-November only to have testing cut short with just 2.5 laps completed at Willow Springs Raceway, an engine failure.  Andrew made his first critical error,  the radius of the valve to piston clearance.  This cost valuable testing time with Edwards and long nights for Andrew and crew who had to repair the engine, complete a spare and run dyno tests.  He managed to get the two 1198cc engines done making 160hp, choosing a smaller displacement rather than going with the 1300cc limit.  Andrew's reasoning, "It is much more beneficial to use a smaller displacement engine with less inertia and gyroscopic inputs, the bike is easier to turn".  Without Edwards available, the break in and testing was completed by accomplished American racer Mark Miller at Willow Springs, one of the country's fastest tracks.  It is packed up and ready to ship end of November.
An A-Team is Forming – You will need more than one fast guy for the Island Challenge, you need at least five, ideally nine, on fast reliable Superbike spec machines.  The British team captain Winfield, a seasoned veteran of the Island Classic brings three spare engines for each of his Yamaha FJ1200+ bikes just to make sure.  Team USA recruits some additional help with AMA champions Jason Pridmore and Jake Zemke coming out of retirement, each in their 40's. Both of which have ever raced classic bikes or had been to Phillip Island, but had Philip Island on their bucket list and were up for the challenge.  Team USA's classic racing veterans David Crussell, Bruce Lind, Martin Morrison and Ed Haazer return to the team, along with a MotoAmerica young gun Barett Long.  Still a rider short, Aussie racer Robert Ruwoldt, who finds himself without a country, "I wasn't fast enough for the Australian team", fills in the last spot.  Team New Zealand will be the clear underdog this year.
International Rules Needed -Team USA now with some hired guns of their own sent a bit of competitive fear and concern through the Island Classic racing scene.   The word that MotoGP champion Edwards was coming out of retirement and going to Australia to race the Island Challenge spread across continents, raising eyebrows and grins among international classic racers, curiosity and questions by modern racers.    It also raised several longstanding issues with the rules of the Island Challenge race.  There are no international rules, rules are based on each individual country's classic racing series, which leads to complications and unfair advantages for some countries.  Issues are smooth bores vs. flat slides, the number of pistons in brakes, upside down forks,  etc.  The Australians having the most restrictive rules, and the British the most advantageous, they adopt Isle of Man TT rules.   Politics now enters it's ugly head and discussions about rule changes start, team captains disagree, the organizer acquiesces and nothing is established causing some teams to boycott altogether.  If there was an International Classic standard adopted it would make many things a whole lot easier, especially in allowing for other countries to participate and host complimentary events, reduce animosity, and make way for a stronger event.   Simplicity would be key for the Challenge Race, for example, 1973-1984 model years, 350-1300cc, air-cooled, 41-mm forks, brakes and frames of the period, replicas and up to 5-inch rim wheels for modern rubber, bodywork fitting of the classic spirit with bottom dams for safety's sake.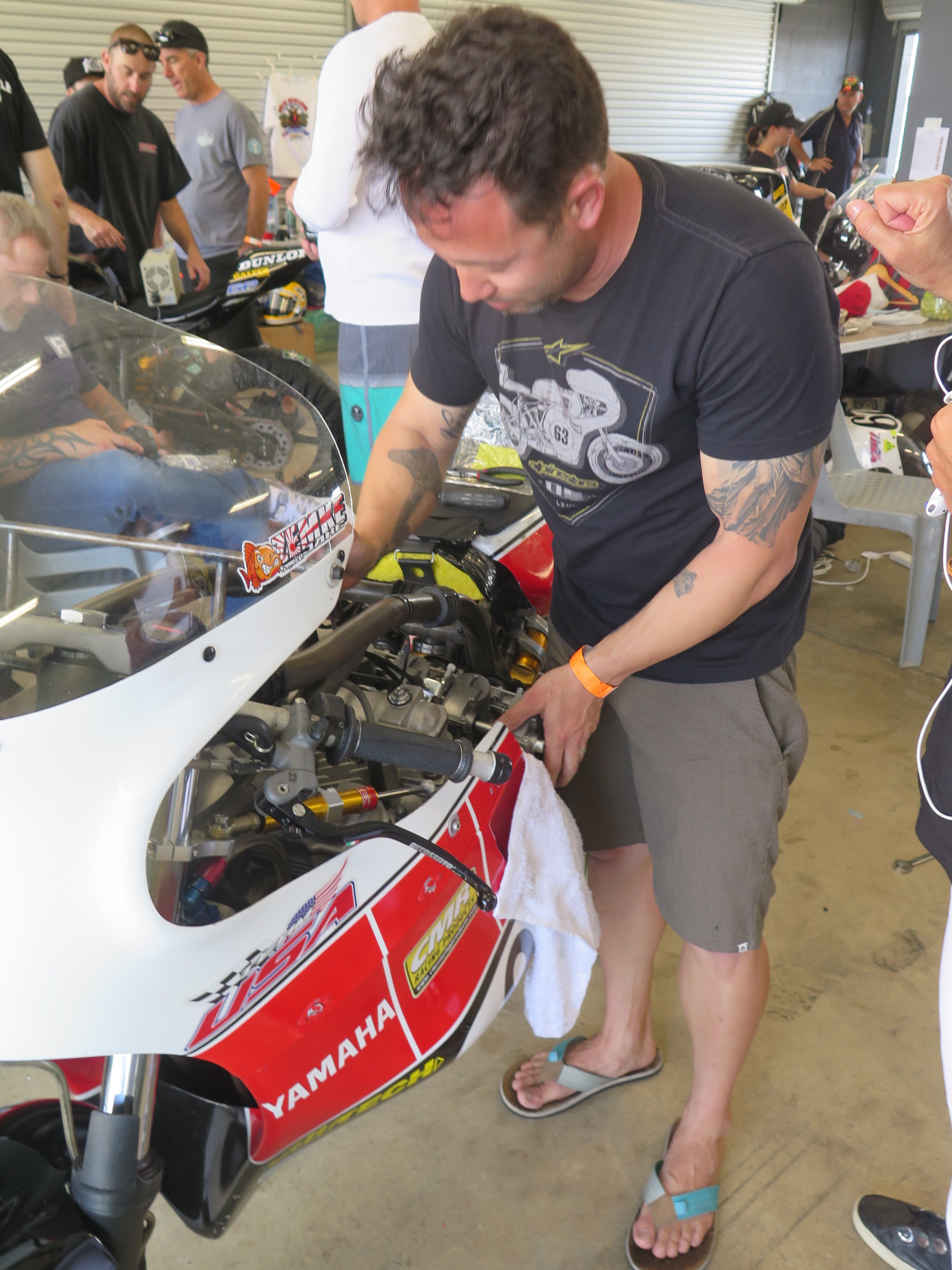 Like Riding a Tractor – The race must go on! It does starting Thursday with one day of practice for all racers, Friday is qualifying for the Challenge racers,  with two races each on Saturday and Sunday.  Team USA is off to a great start in qualifying, with Edwards, Pridmore and Zemke getting into sub 1m40s by the end of the first day practice.  I found new respect for each of three ex-pros as the day progressed, being they were new to classic racing they were now "rookies" of a sort.  I enjoyed watching them get introduced to the grass roots classic racing scene, and they quickly adapted.  Who knew Jake Zemke could get his hands dirty, gently finessing the bank of carbs out of Crussell's Yamaha  FJ1300 he was racing to make jetting changes, more than once. When I asked if he had made friends with his bike yet his response was "Getting a little better.  Been all over the place with the jetting. Been running with some of the British guys.  Changing gearing and getting better.  But spending too much time on jetting and not getting to work on the suspension setup."  When asked about the differences from the modern machines he is used to…"It is like comparing a sports car to a tractor.  Just goes to show you how far technology has come."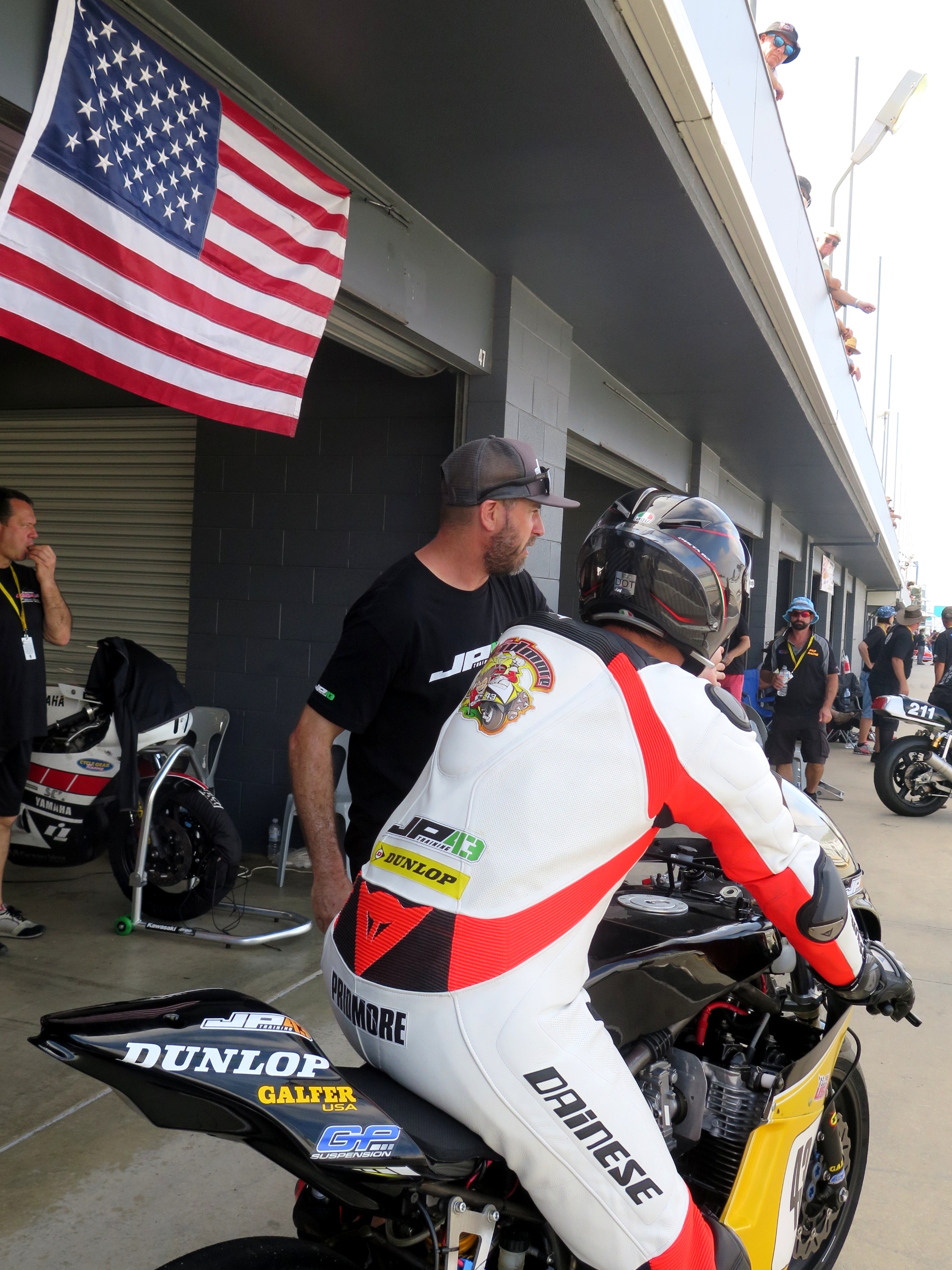 Pridmore is Prepared! – Jason Pridmore, who brought friends, 16 of them to be exact, who volunteered to suffer thru the long 13 hour flight arriving two days early to "ding-dong" (Australian term for dice) with him while he learned the Phillip Island circuit in two open track days. Several were rolling up their sleeves as well and helping out as his pit crew. When I asked about the differences between the BMW 1000rr he just spent two days learning Philip Island on and Ralph Hudson's Yamaha FJ1200 he had tested in California and now racing he said "you have to be gentle with them, when tipping it in."  Then when asked about the event itself…"Here we are battling experience. I think what all three of us have accomplished is pretty good. I don't think any of us want to get in each others way and trip each other up."
Fruit Bats! – Colin Edwards who clearly had to adapt the most said he was humbled, for he had always associated Phillip Island with his MotoGP racing days, his extended family of friends, garage, media and familiar crew. This was a whole new world and experience for him, one in which he wasn't used to, sharing a garage with six other racers, the ever present smell of oil, "clunky" feeling of an 80's transmission, lack of electronic aids, a classic bike and crew of which he had no prior experience.  But a motorcycle is a motorcycle, and a racer is a racer, it didn't matter once the visors closed, "we become fruit bats", to use Edwards term.  Each of new American A-Team racers were getting introduced to a whole new world, as were the veteran classic racers to them, they were glad to have them join in…well maybe except for the British.  Four years later things were a bit different at this year's Gala Dinner,  in fact it was Mr. Cathcart who got roasted in front of 600 guests, Texas style, by none other than America's Colin Edwards, charming the crowd with his Texas drawl, and Australian racer and former rival Troy Corser as his wing man.
Pridmore Flys!  – It soon became very clear that the new American hired guns were an immediate threat to the UK and AUS teams after qualifying.   Edwards qualified sixth, Pridmore seventh and Zemke eleventh, with 36 racers to start.  Then came a visit by Jeremy McWilliams to the Team USA garage for a peek at Edwards bike.  The names Pridmore and Zemke were  buzzing throughout the paddock being said with accents.  The Team USA garage became a popular place for photographers.  The welcome difference came immediately in Race One, with Pridmore and Zemke finally putting Team USA higher than top ten for the first time ever in five years racing the Challenge race. Pridmore came in fourth (1:37 best lap, top speed 274) nearly getting a podium, just missing third place to Glen Richards (UK) who took it with a draft pass at the line.  Zemke finished eighth (1:39 best lap, top speed 271) behind Daniel Linfoot (UK), and Edwards 13th (1:39, top speed 274) troubled with downshift problems causing him to lose several positions, and Long took 15th.
The Pressure is On – Australia benefited with the arrival of the American A-Team with an early points advantage.  Team USA was taking precious points from the British. David Johnston the very fast Australian and pole winner, remarked "the toughest field there's ever been".  Pridmore was getting comfortable with the bike, sharing notes with Edwards during the Saturday races, "Only place I'm having a problem is in Siberia".  Edwards on the other hand was still having issues with suspension and getting the bike to turn" I look left the bike goes right", and that frustrating "clunky" downshifting.  A reminder that these bikes were not finely tuned modern MotoGP machines.
Getting Faster!  – Race Two, a couple of hours later and after further adjustments to Edwards suspension with the help of local guru Phil Tainton, the American team went back out for a second time. The A-Team all had a strong showing, finishing in the top ten, with Pridmore yet again finishing fourth (1:37, ts 269), Edwards now fifth (1:38, ts 278) with fastest top speed in the field, and Zemke eighth (1:39, ts 263).  Barrett Long takes 17th, and once again robbing the UK of precious points.  A decision is made to swap Edwards motor to address a developing clutch cover leak, and the shifting.  Edwards also starts experiencing arm pump, explaining that the throttle pull is too tight.  Andrew swaps the throttle as well.
Race Starts Well – Sunday starts, with a couple morning practice laps allowing Edwards to try the fresh motor as well as a the throttle fix.  Reporting back it feels good.  Pridmore and Zemke are feeling pretty good as well, all three must have had Wheaties for breakfast.  They blasted off the grid in full attack mode for Race Three.  Troy Corser, sporting new leathers and a big smiles trackside, an old friend and nemesis of Edwards, and now garage neighbor, didn't make it out in time for grid lap. Frustrated, he was forced to start from pit lane. When the flag dropped Edwards launched straight ahead from sixth position to the front to meet up with leader David Johnson (AUS) thru Turn One, they are side by side into Turn Two.  He holds second for a short bit and then falls back. Pridmore presses on, then on some more to fourth in lap 5, and gets to third place.   Meanwhile Zemke is in ninth position playing with Beau Beaton (AUS) and Michael Rutter (UK). All is good for several laps, but then catastrophe strikes Team USA's A-team, Pridmore and Zemke both suffer race ending mechanical failures.  Edwards who had ended up behind Pridmore at one point had been doused in his oil and had backed way off finishing 12th.   David Johnson (AUS) takes the win, McWilliams (UK) second, third Byrne (AUS) and meanwhile Corser (AUS) managed 8th with his pit lane start!
Pridmore and Zemke Out – Race Four, with the race barometer rising, as well as the attrition rate, sweltering heat had taken its toll for many racers, machines were getting cooked.  The track temperature measured 149 degrees at one point.  The popular New Era Formula 750-1300 race is cancelled due to oil clean up and the Challenge race is missing a few key Americans now due to mechanical failures.  Zemke's oil-soaked bike had lost a rod and a few stud nuts,  "there's a small window in my engine".  There was speculation that Pridmore's ride suffered a piston seizure, as his too was covered in oil.  David Crussell was out as well.  There wasn't enough time to swap engines or repair either bike.  However, it wasn't just the Americans, Cam Donald (AUS) had a failure on his Irving Vincent at the start of the race.  Race Four starts, and there is an early lap one crash by Glen Richards (UK) getting everyone's attention.   The tight battle for points is between the UK and AUS once again, causing  spectators nervous tension, briskly walking back and forth above the garage rooftops as the racers go around the track.  Further issues plague Team USA, Edwards starts going backwards, sadly it turns out due to a slipping clutch and heartbreaking to watch.  Meanwhile, it becomes a nail biter of a race as it comes down to the last laps with no clear winner, and a battle with the most experienced Challenge racer McWilliams (UK) and Johnson (AUS) neck and neck. McWilliams (UK) sets up for an authoritative final pass in Turn One on the final lap,  managing a lead and kept it, beating Johnson (AUS), with Peter Hickman (AUS) for third.  Troy Corser managed an amazing finish considering he was penalized with a two row grid lane penalty for his mad rush out pit lane start, cutting over early, knocking down cones to get up to speed for Turn One in Race 3.  Sheer determination and frustration perhaps can be a positive as he shot up the front on the start and managed to finish 5th!
Team USA Best Results Ever! – With racing over, the final race points were electronically tallied, and just in time.  The power went out as far as Melbourne due to the day's extreme heat.  Racers packed into the track's club house for the awards ceremony directly after the races, and it quickly turned into a sauna.  Luckily the champagne was still chilled and it was cherished by the Australians with a double win celebration. Not only did they win the Island Challenge and Phil Irving Perpetual Trophy with 685 points beating out the Britain with 654, but also their own David Johnson (AUS) won the overall individual Ken Wootton Memorial Trophy with 158 points, just one point more than McWilliams (UK).  Despite the issues Edwards finished all four races with 124 points earning eighth overall, and Corser third overall with 139 points.  After the medals were awarded and speeches made, Team USA's A-Team rookies were thanked, especially by the Australian's and invited back.  Team New Zealand and Team USA conducted their own ceremony on the side.  The "SuperPower" scalping plaque was awarded to Team USA scoring 465 to the Kiwi's 319, our best points results yet.  Kiwi Team Captain Duncan Coutts once again was forced to reluctantly don the Trump wig, promising next year the Kiwi's will have a better plan.  I secretly hope they include New Zealand's fast lady, Avalon Biddle.  As for Team USA, they to will need to continue formulating their plan as well if they are ever going to get those brownies!  Fast Americans wanted!
– Wendy Newton
Edited version of story-  Road Racing World:  Fast Americans Wanted!
http://www.roadracingworld.com/news/april-2018/
Colin Edwards talking about his first time riding a classic road racer at Philip Island:
Philip Island Pre-Race Alan Cathcart Interview of Colin Edwards and Troy Corser:
Philip Island Classic 2018 Post Race Awards Ceremony: Team USA