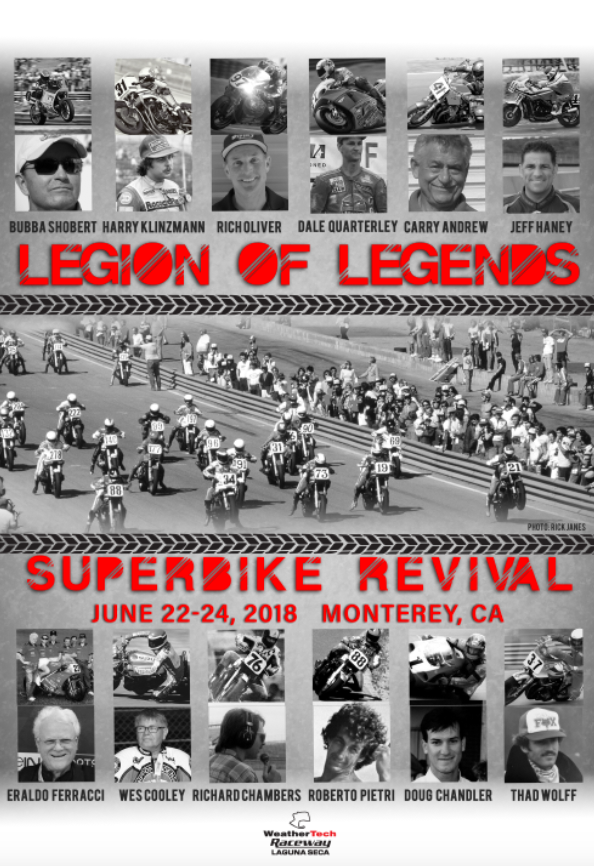 A Superbike Revival is happening at WeatherTech Laguna Seca Raceway June 22-24, 2018! 
Come see the Legion of Legends at Laguna.  The Legion of Legends will be at the World Superbike and Moto America round of races this weekend. Come watch the current Legion of  "Superbike Warriors" battle it out while flying down the world famous "Corkscrew".  Josh Herrin will be doing double duty racing in both series!  Come support motorcycle road racing, say hello to your favorite racers and make some new ones.
A few of the many racers who battled it out on motorcycle road racing tracks both nationally and internationally during the early Superbike years will be attending the Legion of Legends Autograph Sessions at lunch time on all three days.  A Legion of Legend Laps will take place on Saturday after the racing and before the spectator Nicky Hayden Memorial Track Walk.  Hop on your "super bike" and come join us in Monterey this weekend.  Lots to do and see and the weather is going to be great!