Tecate, Baja California – It all started with a toothache a couple of months ago.  I went to Tijuana to check out the dental centers in the Rio Zona.  The side of the city that caters to many Americans needing less expensive dental work.  That would be me.  The trip was a success and one of the best dental experiences I have ever had.   Saving several thousand dollars on the dental bridge allowed me to take this trip, and a few more.  It was while I was in Tijuana that I realized I didn't know as much as I thought I did about the area.  For example, I had no idea that there were so many vineyards nearby in what is called Guadalupe Valley.  Or that there was an explosion of art galleries, restaurants and music clubs in the last seven years.  Drug cartel violence scared all the tourists away.  Businesses started leaving, rents dropped, and artists and creatives moved in.  I guess some good that came from the cartel violence?  Much has changed for the better in Tijuana, the violence has quelled over the last couple of years.
Art, Wine, Music and Mezcal! – My curiosity overcame my initial fears I associated with Tijuana.  Taking baby steps with several short trips.  This is my fifth in two months.  First, I explored Tijuana's cultural scene.  I had been aware of the Mexican music scene in general because of my cousin, Gilberto Cerezo, from Monterrey, Mexico.  He is the lead singer in a very popular and successful band called Kinky.  As a result I have many modern Mexican music bands on my iPod that I listen to while touring.  I discovered the art galleries and met with Arturo Rodriguez, who has been expanding his gallery and putting on workshops.  We discuss offering special events that include local chefs, musicians, wine and Mezcal tastings.  A sensory tour of local art, food, drinks and music are all part of the experience.  Of course, there is the day trip to the local wineries.
Mexican Napa? – I grab a friend who I know loves wine as much as I do and we start our tour via the Tecate border crossing on New Year's Day.  We stay at a Rancho Tecate Resort that has a vineyard and is home to a very special breed of Andalusian horses, Yeguada Casa Real.  A bloodline going back to the original horses the Spaniards brought to Mexico.  They offer tours that let you interact with the horses and offer wine tastings.  The dinner and morning breakfast buffet was amazing.  I discover a wonderful little book from the 1970's about the missions by Antonio Quartuccio that inspires me.  We take off on Highway 3 and start our drive to the Wine Highway, or Ruta del Vin, amazed at the beauty of the rolling green hillsides.  Some of the vineyards and their tasting rooms rival Napa.  Many vineyards have been there for over 60 years, hosting concerts in summer that include famous international Latin singers and bands, like Placido Domingo, Marc Anthony, and Alejandro Hernandez.  Bottles range from $15 to $25 on average. The wines have a taste I first experienced in Tenerife.  A Spanish island that is off the Coast of Africa.  An "earthy" quality.  Something I think is a result of the salt deposited in the soil over years from the ocean winds.  The tastes vary depending on where the grapes are grown.  For example, wines from Ojos Negro valley region farther inland tend to not have this taste.  They are pretty good.  Unfortunately it is difficult to find Mexican wine in the U.S. due to cost to export and small quantities harvested.  All the more reason to come taste for yourself!
Cheese and Wine Road – Highway 3 crosses the peninsula connecting the Ensenada (Pacific side) to San Felipe (Gulf of California or Sea of Cortez).  I stay a night on the ocean in Ensenada.   Heading out with my dirt bike on the back of my truck towards San Felipe in the morning.  This stretch is called the Ruta del Queso y El Vino, or Cheese and Wine Road.   I take a side trip off the highway at Ojos Negros to check out a cheese cave I had heard about from a neighbor who soloed the Baja 1000.  It is a family owned dairy farm that has been around for many generations.  It is the only cheese cave in the Americas.  The owner, Marcelo Castro Chacon, visited European caves and decided to build one of his own out of local stone.  The cave is underground and the stones keep the cheese cool all year round, perfect for storage and aging.  They offer tours of the farm, the cheese making, and cheese tasting in the cave.  Outdoor picnic tables allow you to enjoy their fresh BBQ'd lunches.  An ideal stop for motorcyclists if you have the time.
Mike's Sky Ranch – I continue on looking for the famous Mike's Sky Ranch.  An off-roading racers mecca.  Originally built as a family vacation spot and then expanded to a hunting lodge.  In the late 60's when the Baja off-road races started, it morphed into an off-road lodge.  It has been expanded over the years, but is still very much off the grid.  The power is all generator, and no phone.  I learn a big lesson here.  Driving my two-wheel drive F150 up from the town Lazaro Cardenas, I lose cell reception half way up, the sun is setting.  I switched on my Garmin GPS with a Mexican topographical map loaded.  I had no way to communicate to the people tracking me by my cell phone app Life360 that I decided to stay the night at Mike's.  I meet Mike and two other off-road enthusiasts.  Tiberio Esparza on a BMW 1200GS, and his nephew Christian Garcia driving the chase vehicle, a 1000cc Artic Cat four-wheeler.  They rode all day via the dirt trails from La Rumorosa near Tecate.  Their entire family regularly rides off road, including their grandmother!  It is here I first learn about the infamous "Sondra" the "Desert Dahlia". A Tecate woman who regularly rides up off-road by herself.  I would like to meet her.  Her story motivates me and the next day I unload my trusty Honda 2004 250x, and ride a 90 km loop.  When I get down to Highway 3 there is cell reception and I check-in with my cell phone.  I discover my family has called for a Baja All Points Bulletin.  I went missing for 17 hours, and last they heard was I was going to San Felipe.  Oops!!!  Note, get a Satellite tracker or SAT phone, cell reception gets spottier the further south you go.
San Felipe – I load up the bike, head eastward on Highway 3 toward San Felipe.  The road so far had been great.  Scouting both dirt and pavement routes for motorcycle riding.  The elevated canyons along the way are sweeping and great for a touring sport or adventure bike.  Perfect for my Ducati Multistrada!  As I leave elevation down to the desert valley to the gulf side, the air warms.  Slowly the sight of the  "Cortez blue" coast sucks you towards it.  I become spellbound.  It starts as just a sliver on the horizon, which causes me to speed up realizing it is the ocean.  I have seen pictures, but nothing prepares you for the magnetic Baja blue bay.  I arrive in San Felipe at sunset and find an oceanfront restaurant and bar with WiFi.  Pooped, I plop onto the bar stool and try a "Pimpino" Marguerita.  It is made with fresh cucumber, crisp and refreshing.  I pull out my AAA map and get advice from the bartenders.  The gulf side Highway 5 meets the Pacific side Highway 1 and they tell me there is only 20km of dirt before pavement again.   I change my plans.  No backtracking to the border, instead I will complete a loop up the Pacific.  I find an inexpensive, clean hotel, $21, Captain Jack's and spend the night.  In the morning I meet a wayfaring finance guy from Los Angeles, Sharif Shakhshir.  He is solo touring Baja on this Honda Saber.  We exchange stories of wanderlust while having breakfast on the ocean and we bid each other safe travels.
Valles de Los Gigantes – The drive south down Highway 5 continues to mesmerize me.  The highway has older rough pavement,  good except for one section which has quite a few dips.  At one point I get all the wheels, truck and bike's in the air at the same time.  Giggling, I slow down.  There  are some "double" pavement whoops that can catch you off guard!  I stop to check out my bike tie-downs at the Valles de Los Gigantes, or Valley of the Giants.  The largest forest of "cordon" cacti .  Baja is the only place they are found.  It is not a "saguaro" as most people think, but related.  Some reach 300 years old, takes 75 years to grow an arm, 60 feet high and weigh up to 25 tons!  Worth a stop to appreciate and respect their size up close.  A third of the cacti in the desert are disappearing, and endangered.  Many of the rare one's are stolen by European and Japanese cacti collectors!
Coco's Corner – It is primarily new pavement up to Puertecitos.  I gas up at the last Pemex station. Waiting until siesta time is over and the attendant comes back.  I learn from the others waiting that the 20km is actually 20 miles of dirt until I reach pavement again.  Topped off, I start the off-road portion of the journey.  Within ten miles I reach another famous off-road landmark, Coco's Corner.  The sun is setting and it is the "magic hour".  I stop to get some photos.  I am greeted by Coco, a 79-year old strong man, who has lost both legs knees down from diabetes.  He has made himself the caretaker of this corner of the world.  He and his corner are famous, hosting many off-road guests and passers-by at this strange desert oasis for over 35 years.  Where some say 'Mad Max' meets 'Star Wars'.  He is also well loved, and many regulars bring him supplies and clothes.  He has a book he is very particular about and may ask you to sign your name and where you are from.  You are encouraged to buy beer, water, and snacks from Coco, this is how he supports himself.  You can camp free if you buy beer!  Coffee also if you stay the night in one of his "cabinitos".  Pickup truck camping shells, minus the truck.  Simply tip him in the morning.  The shells actually are ideal shelter if you find yourself needing to spend the night, which was my case.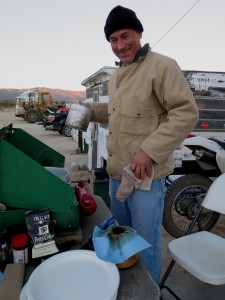 A Desert Assassin – Luckily, Kevin Ward, a well known action-film director, racer, all around Baja "badass"  was visiting Coco.  He has the all important "SAT" phone!  I check-in with my family and ordered by my sister to stay the night so she can sleep, and no more calls from my friends asking for ransom money.  I ask her to relax, it's Mexico, and to wait 24hrs before pushing the panic button.  She was in law enforcement, and is married to a sergeant, relaxing isn't easy for them.  Kevin tells me he has just completed a challenging single track route for dirt bikes that connects to the new highway.  Now riders will have a way to get to Coco's Corner.  Well some riders… it doesn't sound easy.  It has taken him many days over the years to figure out a route, and today he finished it!  He had just single handedly built stone stairs for a steep waterfall section, the trail is called "Ward Falls".   His band of brothers, the Desert Assassins were on their way to ride it thru.  It will be included on the "Rip to Cabo" extreme adventure ride.  A TV show with the same name airing in April will feature them.  Thank god chivalry still exists!  Kevin lends me a spare sleeping bag and shared his mac and cheese.  Feeling like a little sister, arriving unprepared.  I at least had breakfast covered, with artisan made empanada's, fresh Ojos Negros cheese and Peet's coffee.  Very grateful for the overall desert hospitality. Life is good at Coco's Corner!
Off road lessons with Buzz! – Two others, Buzz Fromherz and Don Rotundo arrived at Coco's in the evening in an ambulance converted into a four-wheel drive off-road vehicle.   Befitting of the many strange things I saw at Coco's Corner. An ideal spot for a Mexican version of Burning Man.  Buzz and Don, are retired Honda guys now doing support for off-road tours and drive chase vehicles for the Baja racers.  They just finished scouting out a tour for some Australians.  We tell tall tales around the campfire and learn that there is really only one degree of separation in the motorcycle world.  I guess they don't meet many women traveling alone out in the desert.  So I had to explain what I was doing.  They tell me I need the Baja California Almanac, a topographical map, the Baja off-road bible. Don gives me his.  They also inform me that there is a different way to get to Highway 1 that is more interesting, involving a river wash.  Coco draws me the route in the sand.  Buzz then offers to be the guide.  Hmmm…let me think, no shovel, but I do have aluminum ramps and my dirt bike should I get stuck.  Thinking some more…I have only a few tools, street truck tires, two wheel drive, remote desert, nope…Buzz onboard!  We crawl thru the Baja 1000 route with my two-wheel drive truck, and Buzz imparts many tips as I drive off-road for the first time.  He kept asking if I was scared.  Later I realize that question should have been asked of him.  We are about to drop into the wash, and take a fork he hadn't been on.  It is then Buzz tells me to remind him of something when we get to pavement.  When we do, three hours later, he shares that he has never done this with a two-wheel drive truck. And would never have with his own!  We both just looked at each and laughed…hard.  Sometimes ignorance can be fun!
Bahia de los Angeles – Buzz was a gentleman, entertainer and wealth of information.  Four days were spent teaching, charting distances,  introducing me to key people and places critical to touring.   He shares with me that his reason to come along was to scout out more places to bring his longtime girlfriend and love, Allie.  A strong, active woman, horse, and animal lover. Together they run an animal rescue ranch in Oregon with the help of some young adults also needing rescuing.  She had suffered a stroke recently leaving her partially paralyzed, wheel chair bound and in assisted living.  He was searching for a place to take her for a couple of months out of the year.   Bahia de Los Angeles was on his map.  Possessing an even deeper blue water than San Felipe, and a much more relaxing air, the bay is full of sea life.  Home to many varieties of fish, sting rays, whales, dolphins, and whale sharks!  I really wished I had my diving gear.  We decide to camp cowboy style on the sand in front of his friend's home.  I wake to the sounds of blow-holes exhaling at sunrise, and a curious coyote who likes to steal shoes.   I lay on the sand soaking in the early morning stillness.  I had no idea I would be affected so much by the strength of the spell that Baja casts.  Perhaps it is because of the increasing traffic, distractions, and electronics we are surrounded by in our daily lives.  When slowly removed from it as you venture south, serenity sinks in.  You remember how important it is to find balance and to truly relax.   An experience I am looking forward to again in the upcoming months to share with friends and fellow riders.
Baja spellbound!
"Wendia" – Helmets n' Heels
Rancho Tecate Resort: Google Map (Spendy for Baja $$$)
https://www.google.com/maps/place/Rancho+Tecate+Resort/@32.5040906,-116.6030988,17z/data=!3m1!4b1!4m2!3m1!1s0x80d90e06f0ef15b1:0xf91a8fc3c665621
Kinky
Coco's Corner: Google Map
https://www.google.com/maps/place/Coco's+Corner/@29.5166332,-114.2907286,9z/data=!4m2!3m1!1s0x0:0x119d72f8ebe4af0f
Kevin Ward Credits: Dust to Glory, Lost and Found Baja
http://www.motorcycle.com/features/yeti-coolers-releases-lost-and-found-baja.html
http://www.digitalproducer.com/2004/03_mar/features/03_16/xiz1huv5.htm