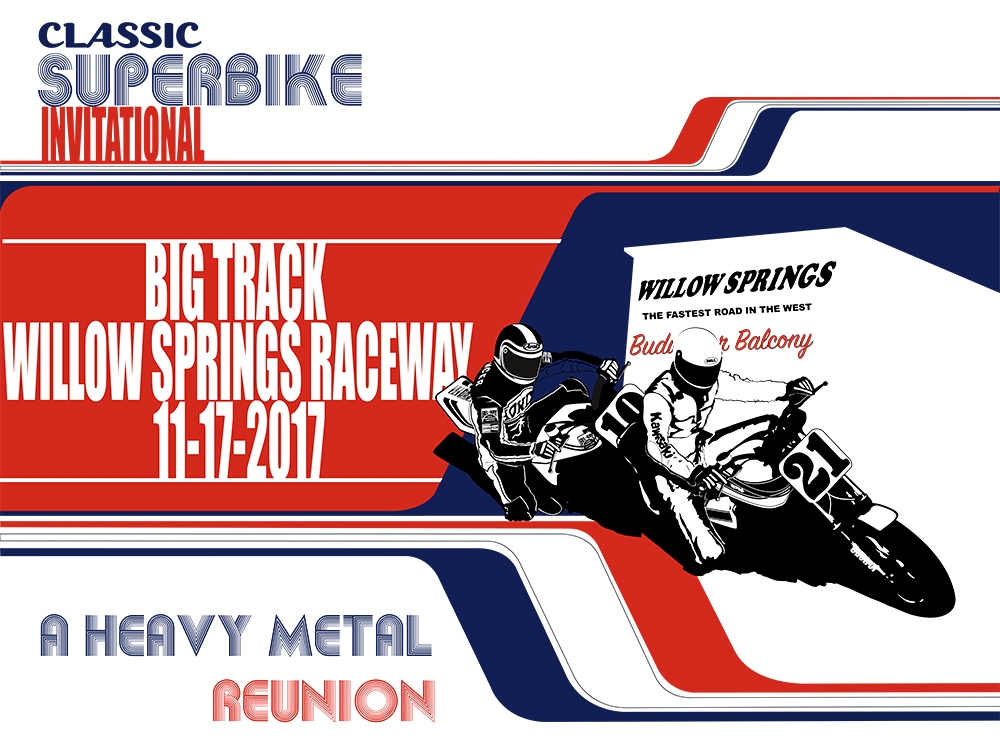 Event Postponed to 2018!  Expanding to 3-Day Event!  Check Back December 1st for Details!!!
Who:      Classic Superbike and All Other Racers or Track Experienced Enthusiasts.
What:     A Heavy Metal Track Day Reunion for All Racers from the late 70's, 80's and 90's.
Where:  The Big Track – Historic Willow Springs Raceway – Rosamond, California
When:    Friday, November 17, 2017  – 9am – 5pm

Why:      Because it's time!!!
The Classic Superbike Invitational Track Day is an open invitation to a track day reunion for the pro's and amateurs who rocked the heavy metal, as well as all other racers who were hanging it out during the late 70's, 80's and 90's.  An opportunity to let the beauties and beasts breathe again,  wide open around the "Big Track" at Willow Springs Raceway.  Experienced track enthusiasts are also encouraged to bring out their Classic Superbike or 2-Stroke racers from this era. Availability allowing, limited spaces will be reserved for modern bikes.  Priority will be given to classic motorcycles up until November 1st. 
Superbike Social – Meet up with old friends, rivals, and an opportunity to make new ones with like-minded people, enjoy a fabulous lunch while you get your groove on with Superbike era music.
Wax on, Wax off! –  Shine up your beauty and show off your bike.  Show categories are Best Street and Racer for 1970's, 80's, and 90's. 
Flex Your Groove Thang! – Dust'em off, suck it in and squeeze into your old school race gear for the "Rock Your Leathers" Contest. (Judging by women panel, prize for best corruption tactic).
Show your pride by purchasing raffle tickets to help support the HyperCycle Classic Superbike USA effort to finally get on the podium for the upcoming 25th Annual Phillip Island Classic.  We're sending over one of our fast guys MotoGP racer Colin Edwards, and putting him on a HyperCycle rocket.  This is a grassroots effort, we've have been out leagued for the last four years, but not anymore!

Learn about the upcoming New Zealand/Phillip Island Classic Motorcycle Tour January 2018.
Cost:   $275 per person, includes lunch.  $25 discount on track day for all classic period race bikes.  $95 for licensed racers ages 18-25.  Bike Show entry $20.  Spectators $10.00.  Payment, sign up and release waivers due by November 5th, 2017.  Tech Inspection for bikes and gear must be passed by all prior to access on track, race track preparation of motorcycle responsibility of riders.  Download sign up prior to payment. (Note: Willow Springs Raceway will collect additional $10 at gate and require their own waiver, vendors and workers will not pay gate fee.)

Sponsors, Vendors and Volunteers are welcome and needed.

Please send inquiries to:  [email protected]