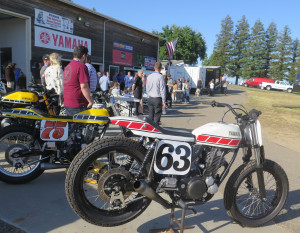 Modesto, CA – It happens annually in May, a gathering of primarily two-wheeled champions, manufacturers, sponsors and enthusiasts, coming together over two days to raise money and awareness for Welcome Home Heroes, a non-profit organization assisting returning active duty military with the transition to private life.  This year it was kicked-off on Friday evening, May 12th, at the ranch of American motorcycle racing legend Kenny Roberts, who hosts the True American Heroes dinner and auction. Located on top of a hill, nestled in nearly a hundred acres of  almond trees, is the Robert's home and large workshop, complete with a small dirt and asphalt track.
It is the sixth year of the event.  The evening started in true motorcycle fashion, with a late afternoon outdoor moto soiree featuring a static exhibition of custom KR inspired bikes.  As well as trial riders performing acrobatic acts on a couple of t-crossed balance beams made up of leftover race gear-filled plywood container boxes.  The boxes appeared as though they were about to burst under the strain of the motorcycles bouncing on them.  Imagine Team Roberts vintage gear, magnesium wheels and race parts spilling forth like treats out of over stuffed piñatas! We all watched with baited breath, but the boxes held. The USMC Color Guard entered as did the fleet of 9/11 Angel Tribute Cars and we stood for the national anthem.
Mert Lawwill manufacturers arms and hands.  We were summoned inside and upstairs atop the very large motorcycle workshop filled with frames and engines.  But not before the getting issued name tags, gift bags, posing for group photos and chatting with some legends. I learned that Grand National Champion 1969 Mert Lawwill not only designed the first Yeti mountain bike suspension systems but also designs and manufacturers prosthesis for those missing hands and/or arms wishing to ride anything with handlebars! He has helped several hundred amputees ride again, including a woman cyclist who competed at the Beijing Olympics!
Many participated.  – The dinner and auction took place in a large open room above the workshop, complete with cloth covered round tables, surrounded by the Roberts racing pictures, helmets, motorcycles and memorabilia.  At $600 a seat or $5000 a table, the event was limited to about 100 people.  Several motorcycle legends and celebrities were on hand, including Grand Prix World Champions, Eddie Lawson, Mert Lawwill, Kenny Roberts, Jr., Wayne Rainey,(via remote video link), Grand National Motocross Champion Bubba Shobert, National Motocross Champions Broc Glover and Marty Smith, actors Kevyn Major Howard and Bo Derek.  Several companies and individuals repeatedly participate in making it a continued success, corporations like Yamaha, Ohlins USA, Graves Motorsports and Wells Fargo.  As well as many smaller companies and individuals.  The co-sponsors are involved at all levels, starting with the VIP bus ride from the local Doubletree Hilton hotel via Black Tie Transportation, 9/11 Angel Tribute escort cars managed by Fueled by the Fallen, food and beverages, 511 Tactical brand swag-filled bags, catering, beverage, auction, and photography services by local businesses as well.
Kenny Roberts gets a trophy. – Mr. Roberts a congenial host, complete with amazing stories and continuous jokes, was especially colorful amidst his racing day peers and cohorts.  Libations, dinner and desserts were served and then the activities commenced.  The Guest of Honor, U.S. Navy Lieutenant Commander Kristopher J. Nastro, call sign "Penquin" of VFA-137 of the "Kestrels" Strike Fighter Squadron, entertained and educated the event guests about the importance of dedication and services provided by his military squadron.  Paying respect to the racers in the room he made several racing analogies.  Comparing "dragging a knee" to landing a plane on a carrier, the importance of a good helmet, complete with HUD, Head Up Display and Bluetooth, and thanked the room of taxpayers for his, stating it costs $500K!  He also stressed the importance of "pit crews" and how his was made up of over 200 people, mostly "millennials", explaining their jobs with an impressive video and narration.  It made one think about all that happens abroad to protect our nation, while we are home enjoying our freedom. He presented a well-used "tail hook" off his F-18 aircraft, (they are retired after 50 uses), as a token of appreciation to Kenny Roberts for his dedication and consistent efforts in assisting veterans.
Funds raised and laughs had. – The Master of Ceremonies was actor and AMA Board of Directors member Perry King, who started the auction and fundraising began.  Several items were auctioned before the big ticket item, a 2017 Yamaha FZ-09 motorcycle. Designed and customized by Team Roberts with the help of many motorcycle accessory companies, like Buchanan's Spoke & Rim, Cycle Gear, Clearwater Lights, MotionPro, Braap Shop Yamaha, and Honda Kawasaki of Modesto.  Several talented artists and fabricators lent a hand as well, Don Serrano Custom Paint, Brian Turfrey, John Stark, Matt Borup, Glenn Stasky, Justin Gray, Daniel Martinez, and Thad Wolff. Transforming it into a highly customized "KR Special" off-road adventure rally bike.  It was auctioned for $30,000. Another prize item was Kenny Robert's helmet worn in his very first professional race at the Cow Palace in San Francisco, it sold for $4500.  A Big Boy Gun Safe signed by all the present champions, went for $1600, a Bubba Shobert picture, $1000, Lawson and Rainey helmets, and much more.  The funniest and last item was the Eddie Lawson perpetual statue, a three foot tall old man with a shriveled shrunken head dressed in a tuxedo. Roberts takes great joy in expressing that it represents what Lawson will soon look like in a few years.  It went for $1000, with the winner agreeing they must return with it the next year to be auctioned again.
May 13th, Day two, we ride.  -Saturday morning was the second part to the True American Heroes Weekend, a public motorcycle ride known as the Annual Michael D. Anderson Jr. May Day Memorial Ride. It commenced at a local motorcycle dealer, Mitchell's Modesto Harley Davidson.  In its 13th year, the ride is led by Michael D. Anderson, the father of the young local man who was killed in action at Iraq in December 2004. At least a hundred riders on all types of bikes, many who knew the fallen warrior and his father, arrived and were escorted at 10am by the local law enforcement agencies and the 9/11 Angel Tribute Cars, complete with sirens and lights to Ironstone Vineyards.  Eddie Lawson rode his Kawasaki Replica, Kenny and his son Kenny Jr. also rode, as well as several motorcycle industry people who attended the dinner on Yamaha supplied bikes.
A police escort for 60 miles. – A parade thru town turned shortly into a sunny scenic 60 mile ride thru gold country.  Perfect weather made it enjoyable as lunch was served at the Ironstone Vineyard.  Riders listened while a band played and there was a special Salute to Peacemakers, Peacekeepers and Protectors.  T-shirts and hats were sold to raise more funds for Welcome Home Heroes.  Everyone paid tribute with thankful words and thoughts to our veterans. Special remembrance was made for Michael D. Anderson, Jr., who continues to be honored thru not only the memorial ride but still flies "in field", for Lt. Commander Nastro had his name placed on his F-18 to honor him.  A memorable memorial to our true American heroes.
-by Wendy Newton
If you are interested in learning more about the organizations or attending next year visit, www.trueamericanhero.org or www.WelcomeHomeHeroes.org