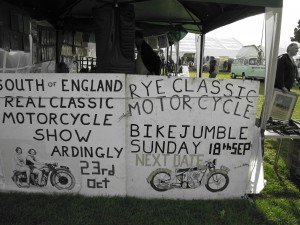 West Sussex, England:  Have you ever been to a swap meet searching for that special item you've been looking for years, find it, haggle with the seller and walk away quickly before they change their mind because you know you just stole it? Well I just did, and I had to travel cross continents to find it, but well worth the wait!
English motorsports adventure starts.  West Sussex includes a little seaside village called Selsey.  I arrived a week early for an amazing motorsports event, the Goodwood Revival races.  I came here to support a friend and my racing sponsor, Steve Tillack, with a very special vintage 1964 F1 Brabham BT8 along with Hall & Hall Race Team services.  This is a special occasion because the little car's history included Goodwood as it's debut race in the Lavant Cup also in 1964.  It's owner, accomplished racer constructor Australian Sir Jack Brabham helped design this mid-engine car and raced it, earning a 1st in class and 3rd overall.  American Dan Gurney raced it as well, bringing the marque it's first championship win.  Brabham's design and skill was a winning combination as he went on to take the Drivers Championship from Sir John Surtees two years later.  (More on that to come later, see my Goodwood Revival story).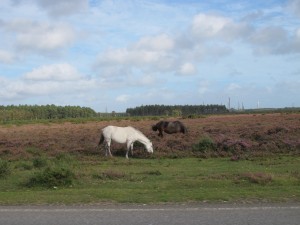 This girl's dream, autojumbles!  To pass time, stretch my legs and overcome jet lag I decided to check out England's largest and perhaps the oldest automotive swap meet.  Swap meets in the UK are known as "autojumbles".  This particular autojumble is a two day event held at Beaulieu (pronounced Bew-lee) on the estate of Lord Montagu in New Forest, which also houses an International Automobile Museum.  Arriving at the Beaulieu estate felt as if I was being transported back in time.  The 3-mile road leading in to the grounds is tight, narrow and very wooded in some places requiring you to drive slowly.   In the wooded sections I was expecting Robin Hood and his merry band of brothers to appear out the trees.  Sadly however, there are large empty fields left in the area, as most trees were cut down to by Lord Nelson to build his fleet in the early 1800's.  In some of these you might be lucky and see wild horses grazing in the lilac heather covered meadows.
Get there early.  I am quickly transported back to reality as I approach and see fields of cars and caravans parked, and lines of white tents.  This is the autojumble.  I arrived Saturday near noon, and already people were leaving with treasures in hand.  One man had a very old detailed vintage airplane model of a P51, it had a four foot wingspan, and pilots inside.  In England, this is one of the largest autojumbles with over 2000 stands.  Most of the stands are occupied by a people who came in their "caravans", or sleeper style camper trailers and it is as much a social event as a selling opportunity.  Quite a few French also attend, as they were right at home cooking and serving up bread, wine, and cheese right out in the middle of the grass row walkways.  Imagine a European tailgating party, only it lasts all weekend.
Beauty's abound.  There are some professional vendor stands although they are typically savvy and occupy the more expensive spaces under white tents where things are also much pricier.  Being a bargain hunter I stayed outside, where it was sunny and a perfect day to stroll.  When first entering you hit the automobile section.  There are lots of vehicles for sale, as well as tons of vintage cars and parts.  This is where people come to sell all those extras from their projects completed, or abandoned, or simply collectors who have moved onto other things.  Lots of British car parts, common and exotics.  You find many things older than the 60's and quite a bit of pre-War stuff.  I kept walking as I wasn't there for car parts, unless of course someone had a Mopar driver side rear view mirror for "Betsy" my '64 Dart GT convertible.  I knew I wasn't going to get that lucky.  Onward towards the motorcycle section.
The quest begins.  I have been looking high and low for vintage racing leathers and boots from 1960's period or earlier.  This has been a four year quest since I acquired my first vintage bike, a 1965 Mach 1 Ducati.  There is of course, nothing for women from that period, so I was hopeful to find a men's size that would fit.  It took awhile to get to the motorcycle section.  Having never been to an autojumble I could not help my curiosity and stopped at nearly every stand.  I loved the patina colored everything….oil cans, badges, tires, wheels, panels, carbs, hardware, tail lights, mascots, toys and especially the really cool old tools.  Just maybe I'll find that nicely worn quality pair of safety wire pliers?  Everything is here, it is a bargain shopper's dream.  It's a good thing I abandoned my idea of riding a motorcycle to the event for the weather report was originally dismal.  Luckily the weatheman turned out to be wrong, for it was a truly perfect autojumble day.  I was armed and dangerous with a big backpack and a large four door sedan with lots of room.
Garage candy galore. As I made my way systematically up and down the rows and rows, I found myself drawn to the brightly colored stands with oil cans stacked.  Having limited room in my backpack, as most people had brought wagons, I focused on the tiny oil can.  The ones barely five inches long with the little screw caps and the long needle spouts.  I soon found out from the "pro" sellers these were highly collectible, especially if they were really old.  They were a bit too pricey, ranging from 30 to 50 quid.  When you consider the price is in British pounds, not U.S. green backs not quite the bargain.  So I had to pass on those and purchased a used book instead called "Great Moments in Motorcycle Racing" by Peter Carrick, about the 70s' racing scene. A classic racing history read.
Never give up. After about an hour I came across a corner stand where I found a man and his wife selling quite a few motorcycle objects.  He had on display a wheel with an engine in it! Not quite sure how that would feel under heavy braking? He also had some old tools and a couple of the little oiling cans I am so fond of.  I bought one, for a reasonable 2 pounds, instead of 30.  As we talked about the engine wheel I saw a nice pair of Kombi black motorcycle boots, size 5 sitting next to it.  I tried them on, and they fit.  We negotiated and I got them for 10 pounds, he had wanted 15…score! I had brought my modern racing helmet and gloves on the trip, but not my motorcycle boots.  I was hoping to find a cool pair somewhere, and very excited that I just did.  Now only if I could just find matching leathers than maybe I could be prepared for my fantasy "once around" parade lap at the Goodwood race circuit.
There they were!  We discussed vintage motorcycles for awhile, and just as I was turning to leave I  saw them!  Hanging up in the back of his booth a barely used black leather one piece race suit from the late 1960's.  We took them down… size 38… measured the shoulder…and I thought to myself please be 16"… they were!  I immediately took off my shoes and wiggled into them over my clothes, they fit perfectly.  Now for the next part, the price.  To my surprise he wanted only 25 pounds! I didn't even bother with trying to haggle,  an unbelievably low price.   I couldn't believe it, vintage racing boots and a race suit in excellent condition for 35 pounds! The exchange rate was $1.60, that's $50 U.S. or so.  I paid the man and ran!  Those would be easily over $600 in the States.
Autojumble luck. What were the chances I would find racing boots and suit, and from the same seller!  I walked on with a big smile and feeling pretty good about my choice to check out Beaulieu.   I strolled about and found my self continuously drawn to pretty brass foot-powered air pumps.  There were quite a few people selling these restored vintage foot pumps, and for quite a bit of money.  They would be nice to have as a little bling to my vintage tools track box.  The very nice models were the old Dunlops, but the asking price was 185 British pounds each.  Cool looking and functional, but a bit heavy to carry home.  So I studied them carefully, and tested a few, asking questions about how they worked.  I learned they have leather seals inside that need to be oiled regularly.  On the way out I decided to purchase one, justifying it with you will regret it when you get home.  I settled for an all brass hand pump version for  60 pounds.  After that, my wallet went light and my loot heavy, and decided that was it for day one of the Autojumble.  I had only seen a quarter of it and decided to come back for Sunday.
Goodwood race circuit.  Driving back to Selsey I decided to check out the Goodwood track before the crowds arrived next weekend.  Also to learn the lay of the land, as there is a cricket pitch party and Lord March who owns the estate throws a very nice themed evening party we were to attend.  I am especially concerned about being late after I am made to understand the English etiquette required.  Also the weather was going to be a concern that weekend, and I didn't want a wardrobe malfunction on the way to the infamous Saturday night party.  This year  "Barbarella" was the theme.   Black tie was the default dress code or the preferable option, men and women are to dress as characters from the movie "Barbarella".  I was a little too young when that movie came out, so I didn't know what exactly what was a "Barbarella".  Google fixed that.  Let's just say she didn't wear much, and as a result I won't be either.  So I do not really want to get lost and asking for directions dressed as Jane Fonda in a 60's sci-fi outfit, silver go-go boots, fishnet bodysuit, sequin bikini, big hair and my everything's hanging out. So rest assured, I had to know where I was going.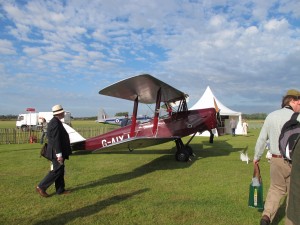 The Goodwood grounds are amazing! A racing enthusiasts dreamland, Goodwood was designed with something for everyone. They include not only the technical automotive race track, but a horse track, an open air museum,  rolling green hills among stone remnants of walls where there was once fox hunting (although not PC these days), a farm, multiple gardens, and of course, the airfield which was a WWII Spitfire base, that remains active today. The track appears to be fast, and a bit harsh as far as asphalt goes, but great for the cars I'm sure.  Also a great venue for the spectators. The Goodwood Revival is a vintage car and motorcycle racing event that also has quite a few exhibitions throughout the weekend.  Vintage planes doing low level fly-by's, and you can pay for short flights, race bikes, dirt bikes and a Bonhams auction included.  As well as hired entertainment, Doo-wap girls, Laurel & Hardy riding around in vintage vehicles playing with the crowd, etc.
The cool part is that the spectators.  They are very much a part of the event in that everyone comes dressed up in period costumes. And in case you need some help there is clothing and hair shops setup as well as shopping at a period market they constructed which includes goods with period labels. The track looked awesome even when it was empty. I couldn't help but get excited and found myself getting that "racey" feeling just standing there. Now only if I could figure out how to finagle a ride around the track…..hmmm.
For more see my story on the Goodwood Revival!
-Wendy Newton,  Helmets n' Heels
http://www.beaulieu.co.uk/events/international-autojumble/