Springfield, Mass.:  It has been a very hot and steamy Sunday in Springfield, Massachusetts, I arrived on the East Coast during a heat wave.  It has also been a busy day, the rumble of motorcycles steadily converging on Worthington Street in front of Theodores's Booze, Blues and BBQ located in the historical part of downtown. Springfield's past has been full of pioneering entrepreneurs and manufacturers, Milton Bradley, Druyera Automobiles, Smith & Wesson, Rolls Royce, North America, even Dr. Seuss to name a few.   One very special manufacturer is being honored today, Indian Motorcycle with the annual event known as Indian Day taking place at the Springfield Museum.
"Cool people doing cool shit".  I originally found out about Indian Day thru Greg Coutu, a member of the Café Racers of the North East and founder of the very hip café racer web site, he promotes at www.CircleOneOne.com.  They decided that Indian Day was a cool excuse to have a  "meet up".  So he put the word out and despite a poor weather forecast, several clubs from the neighboring five states rode out to meet at Theo's.
Beautiful BSA.  There were quite a few nice bikes, and this being the first attempt at a meet up,  that's all there was, enthusiasts and riders.  But certainly the ideas for next year were percolating and getting exciting.  I was really looking forward to bringing home a t-shirt or patch of some of the cool clubs and/or shops.
Rare Brown BMW.  Also hoping there would be a bike contest to see some of the East Coast builders two-wheel jewels.  All sorts of bikes did show up one of which was built and going to be raffled away in September. A very nice bike indeed!
Rockers!  Some moto celebs were there.  Mr. Dave Roper, the only American Isle of Man Senior TT winner was present getting ready to go to Mid-Ohio and Portland to race. I also ran into Kerry Smith, a fast lady AHRMA racer, who came in from Maine, who was also getting ready to compete at Mid-Ohio.  I had an opportunity to lunch with Kerry which was cool, for pre and post track activities rarely allow for time to hang with other racers.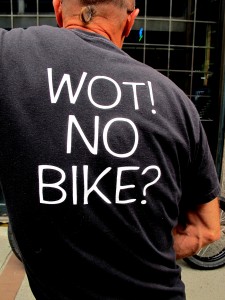 East Coast Racer Kerry Smith. I had read about Kerry in AHRMA's Vintage Views, and recently on Greg's site as he posts interviews.  We tried the BBQ at Theo's and I was especially excited to hear her parents had just returned from the Bikers Classic 4 Hour Endurance Race at the Franchorchamps SPA in Belgium, as did I.  Aha! Perfect opportunity.  I pitched an idea I had to Kerry about forming a woman's team to compete as SPA.  We would just need a couple of sponsors and some volunteers, oh…. a bike…and some practice, no small task.   I tried harder by planting a seed about being first American women to attempt it, and I'm not certain, but maybe the only women's only team to attempt it?  We'll see if it takes root??
Parts galore. The next day I stopped by Bob Hogan's shop after getting referred by a builder I met at the event, Paul Ficara.   I mentioned to Paul my recent purchase of a '67 Metralla framed Bultaco 250 racer, that needed some love.  He suggested Hogan's might have the parts I would need and could advise about what should be in the spares part kit I still needed to put together for racing.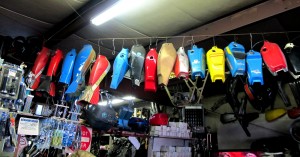 Yankee's? Bobs' shop houses one of the largest collections of Bultaco, OSSA and Yankees motorcycles and spare parts.  He bought out each of the companies inventories when they went out of business.
He raced everything!  In addition, he has quite a vast inventory of used bikes from each of these makes.  He was also a motorcycle dealer for these makes when they originally came to the States…and he raced them. His racing endeavors started innocently against friends in 1947, by 1952 he had turned pro. He still races whenever he feels like it, at 70!
Still racing at 70!  So what happens when two racers get together, the conversation turns quickly to racing.  It started when I inquired about the racing pictures and trophies above the counter.  Bob was in many of them, then out poured the stories and The Folder. The Folder was thick with old yellowed article photocopies and amazing photos from some of Bob's adventures and most memorable races.  He said he had much more, but he lost them when his original shop burnt down in 1975.
Beat the best in his backyard.  Bob is no slouch. Most of the races he won or podiumed.  Beating Mr. Oriel Bulto himself in a Six Days Trials taking place here in the States. He had raced many years beating out other famous riders including the West Coast trials and Desert racing crews which included the likes of Bud and Dave Ekins. He claimed these guys weren't used to riding in "real" woods.
Drag racing a Bultaco? Armed with his pale yellow Bultaco Metisse he said in practice he didn't have it geared right and ended up on one wheel three quarters of the way down the straight.  Next day he made some modifications prior to the heat and beat the guy Bob Johnson who had invited him, pulling a 14.0 to Johnson's 14.9.   He says with a wry smile, he never heard from him again.
Hall of Famer.  In 1968 he competed in the World Hill Climb, Class C Pro's on a 350 Bultaco, "El Bandito" in a 750 class, beating the entire class of 750's. He also competed against British racer Jeff Smith one year in a moto-cross event and beat him. But his proudest moment was winning the Sammy Miller Two Day Trials at Great Gorge in McAfee, NJ, sponsored by Bultaco. What amazed me about Bob was he appeared to have participated in many disciplines, roadracing, enduro, moto-cross, drag, trials and hillclimbs.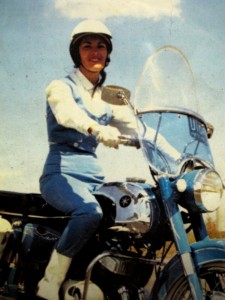 Married a Helmets n' Heels girl! Why he even married an enduro racer Mary, a true Helmets n' Heels lady, who was not only voted Ms. Laconia but asked by Eastman Kodak to be a contract model. He drew the line at that. But her pictures and his daughter's who also competed are proudly displayed at the shop.
Needless to say we barely managed to discuss the Metralla, I'll just have to come back!
-Wendy Newton,  Helmets n' Heels
http://www.hoganscycleshop.bizland.com/