Classic cars, motorcycles, music, art, prostitutes and Pope Francisco. Returning home after a whirlwind last minute three day trip to Cuba.  Exhausted, body aches inside and out.  Paying dearly for this trip.
It started days earlier, Friday afternoon, during my "motorcycle maintenance zen" time.   I finish up the bike and receive a cryptic text from a friend, something about business advice?  This friend is not a business man.  He is a fast speaking Spanish investigative news reporter always in search of stories.  Curious,  I call to find out what now.  Sure enough, another crazy idea.  He wants to jump on an airplane to Cuba to cover Pope Francisco's visit…in less than 24 hours!  He needs a cameraman…or in this case, woman, and will I come?  Magic words…"Will pay for your ticket".  He must want this story bad!  Our last trip was quite the test, we were hardly speaking by the end.  But how can I resist a Cuban adventure! I quickly research the sanctions!
I discover tourism travel to Cuba is not allowed for Americans.   You must fall under one of 12 categories to travel to Cuba without U.S.  permission, using a "general" license.    Your itinerary documented and receipts saved for at least five years if you go.  You are not allowed to spend more time "recreating" than working.   If you do not qualify for the general license,  you can request travel permission for a "specific" license by writing the Office of Foreign Assets Control (OFAC) in Washington, D.C.    Categories are family visits, government business, journalistic activity, professional research and meetings, educational and religious activities.  Public performances, competitions, exhibitions, support for Cuban human rights, and humanitarian projects as well.
I fall under a general license for telecommunications business, professional research.  The reporter falls under news and broadcasting agency.  I agree to a quick three day trip.  You cannot buy the tickets online direct from Los Angeles to Cuba.   So we buy tickets from Los Angeles to Mexico City, then fly to Havana for $249 each.  Several carriers offering flights to Havana, AeroMexico, Interjet, Volaris and Cubana.  United, an American carrier, is currently trying to get a direct route approved.
We land in Mexico City.  Missing our connection, the last flight to Havana by 15 minutes.  We now must spend the night at the terminal hotel and fly out in the morning.  Mexico City traffic crawls with congestion, making Los Angeles traffic seem pleasant.  We hire a driver to take us to downtown Mexico City for dinner.  Making a special stop at artist Frida Kahlo's house and museum, Casa Azul.
Frida Kahlo a famous Mexican artist.  And a pioneering feminist who died at 47 in 1954.  She suffered her adult life from injuries sustained in a tragic trolley accident at 18, told she would not walk again.  She did.  Her strong character revered by many women for her revolutionary, introspective colorful art and cavalier attitude.
Frida was cool! I was excited having recently dressed as Frida in a costume contest for a art opening, supporting a niece's first exhibit featuring this wonderful artist.  I like to imagine if Frida could have, she would have ridden a motorcycle and been a Helmet's n' Heels girl!
Our arrival into Havana was easy.  Passengers entering and exiting the customs terminal get photographed. U.S. passports are not stamped but rather a separate paper.  All bags scrutinized.  Unfortunately we learn that drug smuggling is a problem in Cuba.  Everything is available, and is illegal.  We met a fisherman who told us he had served ten years for cocaine smuggling.  We also learn there are two currencies in Cuba, the national currency and a local currency.  Then there is also a third which is American dollars.
Transportation is easy too, rides are everywhere.   The "official" taxis may have air conditioning, heavenly if it is humid.  The "unofficial" taxis do not, but much more adventurous and less expensive.  It is true, there are many older, shocks worn, bright colored American cars from the 1950's.  If you ask, they will open the hoods.  Let's just say Cubans are resourceful when it comes to engineering fixes.  They have to be, parts limited and expensive.   There also lots of 1970's Russian sedans.
Many cars have questionable reliability.   The drivers do carry quite a variety of tools out of necessity, and there seems to be a mechanic on every block.  There are also horse drawn, pedal, and two-stroke carts.  As well as interesting older Eastern-block motorcycles with sidecars also available for city rides. For around $5000 there are also 7-12 day tours on old Harley Davidsons.  Note, that would be a tourist activity.
If you have fresh back and rib injuries, beware.   Most of the roads are cobble stone or pot-hole riddled.  Ladies, I recommend close toed shoes unless you like the feel of fine dust in your toes and dirty sandals.   Traveling thru Havana streets appeals to many senses.  Some smells can come as slaps.  There are still strong third world acrid areas.  Construction is everywhere.  Suppliers and builders will be busy for decades here.  Most everything is in need of some degree of repair.  Well maintained hotels and restaurants are available but pricey.  Any non-niceties are overcome by the sounds and the street scenes.  Every corner is a photographer's dream.  Music abounds across the entire city along with dancing.  Arts are a national past time and the pride of most Cubans.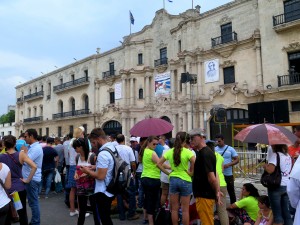 We arrived Sunday to the hotel in Havana.  Twenty minutes before the beginning of the Pope's ceremony.  It is at a cathedral close by, we run to get a good spot.  Unfortunately, Pope Francisco's pep rally would last four hours before he would address the crowd.  I wasn't prepared for the long wait standing in one place, or becoming a human sardine.   I never imagined how much your back could hurt from just standing.   I started asking myself what had I gotten myself into after two hours and is quitting an option?  I'm not even Catholic for heavens sakes!
As the time neared for the Pope to speak, it became a battle for breathing room.  The weather didn't help as it was 90F with 70 percent humidity.  With our last minute arrival and the rush we had no time to buy water or food.  Soaked in perspiration, stiff from standing , no sun protection, and unable to leave, this was a test.  The reporter was wearing a dark blue cotton shirt, the only dry part was the pocket flaps.  This became a mind over matter exercise for me after the third hour.   I soon would also have to practice Buddhism…and fail…for the crowd was becoming unruly.
As the time approached so did the crowd.  We were in with the "people" and not with the "media".  The media platform behind us was above the crowd with ideal viewing, comfy chairs, and water!  Did I mention that we were not invited press?  I find out that the reporter's sister news station in Miami had pissed off the Cuban regime years ago.  The news agency is not exactly welcome.  Small detail!  I start to get nervous, for we didn't exactly blend in with the crowd with our camera gear.  I also start to notice wherever I point the camera, banners and umbrellas unfolded in front of our shot.  It must be a coincidence?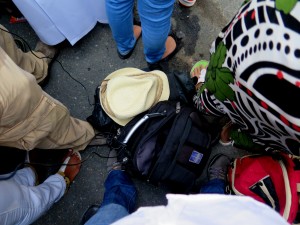 We have to shoot fast.  Using our backpacks as ground space holders making sure they didn't disappear in the sea of legs.  I hold the five pound video camera in one hand, microphone wires in the other.  My elbows out acting as air space holders.   I have to shoot the Pope from a 45 degree angle follow him up a ramp to a chair and pan to the reporter a yard from me who ends with quick commentary.  I get one chance. Fours hours of waiting for less than two minute spot!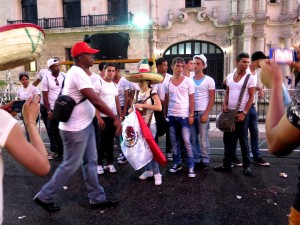 It was like a rock concert,  surrounded by young zealous Catholic fans.  Cubans, Mexicans, Argentinians and many other countries represented.  All singing religious pep rally songs .  I started finding myself singing along,  until some worshipers became aggressive.  Then we became the bad guys when we started denying passage. You couldn't get any closer, and we were not going backwards.  But still latecomers were trying to wiggle their way thru the crowd to get closer.  Then it starts to rain, we have no umbrella and expensive electronic camera equipment.
Crowd control? It consisted of a two person deep perimeter line of young teenage Cuban kids acting as papal soldiers.  They had formed their line well before the arrival of the crowd.  Luckily one of them near us was a Moto GP fan, wearing a Valentino Rossi hat.  He came to our rescue when an international incident almost broke out.  Minutes before the Pope arrives a Cuban mother and daughter were pushing their way thru the crowd.  They asked to pass by us,  politely we said "no".   So they resort to pushing.  I tried to ignore them, holding my ground to not fall over the backpacks. But after the fourth push…a big one…I decided to push back…a bigger one.  The resulting ruckus raised the attention of the "Papal Police" and the media behind us.  For a minute I thought we might become the news, all eyes were on us!  The reporter immediately speaks up and in Spanish.  Says "We are foreign guests here to film the Pope's visit to Cuba, you are Cubans.  Is this what you want the world to see?"  Silence, you could hear a pin drop.  Then the hand of God intervenes, the Pope arrives.  We got our shots, absorbed his holy and hopeful message and head to the hotel.
The bed's box springs were like a jack-in-the-box in my back.  There was no mattress on my bed.  Repeating nightmares of interrogations by the U.S. and Cuban officials about our visit didn't help.   We check out of the hotel and stop by the new U.S. Embassy as suggested on the website.  I took the opportunity to speak with the Chief U.S. Economic Commerce Officer.  I mentioned that there didn't appear to be business opportunities for telecommunications in Cuba.   I am told the Cuban government is the customer, every business is controlled by the government.
Not exactly a free trade environment.  Also the American administration would like to do business more than the Cuba government does.   The Cuban government is operating a monopoly, especially when it comes to something like telecommunications.  Little is open to American partnerships, yet.  He cited an example of the Canadian who put $8000 into a joint venture with a Cuban bar owner.  They fixed up a bar.  It was successful.  Then the Cuban partner gave the Canadian $8000 back within a year and told him "Adios".  There was nothing the Canadian could do, and no profit in it for him.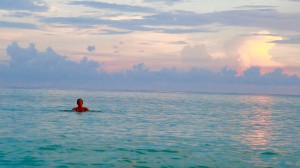 To the beach.  My business research done I insist on a place with a mattress for our last night.  With the help of our drivers we find an all inclusive beach front resort in Santa Maria with many foreigners and Cubanos.   I notice among the guests quite a few attractive young men and women milling about making small talk with single men.  They are without the required neon resort issued wristbands?  It becomes obvious they are sole proprietors of a certain sort.  So it turns out there is actually some free trade zones in Cuba after all!
Viva Cuba….Libre Cuba!
-Wendia,  Helmets n' Heels

http://www.biography.com/people/frida-kahlo-9359496